Each hand-made product is created carefully and without hurry, with love and joy towards own work. Therefore time of preparing is 3-4 days depending on degree of complexity.
Welcome to JEWELRY-HANDMADE. USD 7.00 or EUR 5.00 - delivery.
We offer high-quality hand-made jewelry. Felted jewelry. Beaded jewelry. Polymer clay jewelry and others.
All products have been created by hands of artisans, with excellent color patterns, which make daily routines and holiday more beautiful and give true joy.
Here you will find excellent gifts for yourself and your friends, made with love, guaranteeing high quality. Each piece is made carefully with respect to customers' wishes.
We are glad to be able to provide original, hand-made jewelry. We wish you find joy and satisfaction in our hand-made artwork.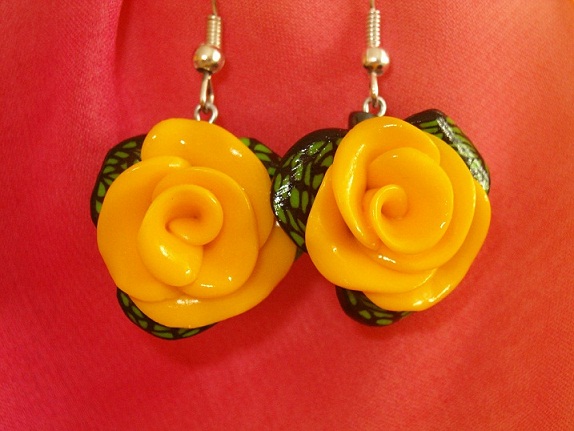 .
Code: HM_01
USD 14.00 or EUR 10.00
Hand-made.
High quality.
Polymer clay earrings.
Yellow roses with green leaves.
Length 4cm .